Cadiz Spain
Cadiz Spain is one of my favorite beach towns. The beaches have character, beauty and are fun.
Cadiz claims to be the oldest continuously inhabited city in the western world. Originally settled by the Phoenicians around 1100 B.C.
It is the same port that Christopher Columbus set sail from to the new world and Cadiz became wealthiest port in the western world after the Guadalquivir silted up. Today Cadiz has a population of around 160,000 in the city proper and about 650,000 in its suburbs.
The city itself has had a decline in populations as there is little area to grow. Cadiz Spain is worth the visit especially if you like to get away from the overcrowded tourist areas. It really is very easy to get to, especially by train. Cadiz even has an airport close by, La Parra Airport or the Jerez airport is only 21 miles from Cadiz.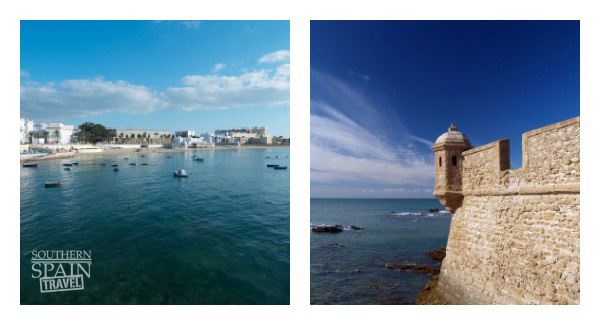 There are a few beaches in this coast town. La Playa de la Victoria is the beach most frequented by tourist and locals as it has few rocks in the ocean, moderate waves and is the largest beach in Cadiz Spain.
Here are some other good reasons to visit Cadiz Spain:
Easy - 1.5 hours from Seville on the local train. Sleep on the way there, sleep on the beach while you're there, sleep on your way home…love it.
Comfort - You can rent chairs and cabanas there…since you didn't bring yours it makes it easy for laying out.
Clean - They have bathrooms and outdoor showers to rinse off. Not to be girly but it's nice not to feel sticky from ocean on your way back to your destination whether it's in Cadiz or any other town.
Convenient - Cadiz is the last stop on the local train. So whether you are coming from Seville for a day trip or you flew into Jerez de la Frontera Cadiz is very easy to get to. Also, you are only a short walk to the beach from the train station. No taxi, no bus, no car rental needed just a diesel. You're good ol' feet will get you anywhere you need to go.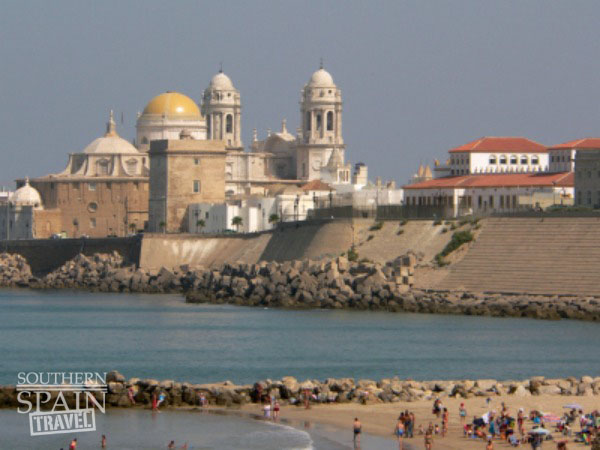 Things To Do and Attractions in Cadiz Spain
Torre Tavira – Cadiz's rich merchants all built watch towers to keep a lookout for their merchants coming into port. Torre Tavira is the largest remaining of these towers. Worth a visit as it has a camara obscura.
Gran Teatro Falla – Located in plaza Fragela, this theatre was completed in 1905. Built in the neo-Mudéjar style with red bricks and horse shoe arched windows and doorways. Still in use today the Gran Teatro Falla host the artistic competitions from Carnival and has shows throughout the year.
Plaza de Mina – Once an orchard to the convent San Francisco, this plaza is now one of the prettiest in all of Cadiz.
Plaza de San Francisco and San Francisco Church and Convent – Located on Plaza Mina this church and convent was build in the 15th century.
Plaza San Antonio – This beautiful square is surrounded by a mansion and the church of San Antonio. Plaza de España and the monument to the constitution of 1812 is a large square located near the harbor with the monument to the 1812 constitution dominating most of the square.
Admiral's House – The mansion was built in the late 16th century for the admiral of the Spanish treasure fleet. Its facade is made of Genoan marble and is elegant to this day.
Roman theatre – Discovered in 1980 under an old warehouse this is the second largest Roman theatre in the world.
City Gates - Las Puertas de Tierra originated in the 16th century. Once consisting of several layers of walls, only one of the walls remain today. The two side-by-side arches cut into the wall is one of the primary entrances to the city. El Arco de los Blancos is the gate to the Populo district. It was the main gate to the medieval town. The gate is named after the family of Felipe Blanco who built a chapel, that is no longer there, above the gate. El Arco de la Rosa or translated Rose Arch, is a gate next to the cathedral. It is named after Captain Gaspar de la Rosa, who lived in the city during the 18th century.
Carnival – For those who do not know what carnival is, it is a time before lent usually in February that is a time of celebration before the giving up of meat. The carnival in Cadiz is the most popular in all of Spain with people preparing for the street festival for up to a year in advance. Usually celebrated with costumes and singing.

Where to Eat in Cadiz Spain

Meson Cubres Mayores
Calle Zorilla 4 11004 Cadiz Spain
956 213 270
Good authenic spainish food with old world charm. Great tapas, good portions…may be a wait, but if you don't mind, stand at the bar and you'll be served quicker.
Taberna El Tio de la Tiza
Plaza Tio de la Tiza, Cadiz Spain
A little off the beaten path and challenging to find, but that's where you find the good places! This restaurant has great food, a good chef, and very authentic. Sit outside in the relaxed plaza and enjoy!
Restaurante Rayuela
Calle Sopranis 19, 11005 Cadiz, Spain
This restaurant serves up Argentinean, South American, Peruvian and Eclectic type cuisines. If you're in the mood for something else besides Spanish tapas food, try this dining. Not on the cheap side, it does have fantastic cuisine and a fun experience if you are a foodie. It's also a place where you can get a meal with courses if you prefer that one day…
Balandro
Alameda Apodaca, 22, 11004 Cadiz, Spain
Great for gourmet tapas or a lazy lunch, this place serves up great atmosphere and food. It's on the modern side and offers two floors of seating.
Chiringuito Francisco Fontanilla
Playa de la Fontanilla - Conil de la frontera, 11140 Cadiz, Spain
Excellent sea food but will most likely busy in the summer months because of the beachgoers. Nevertheless, it's a solid restaurant with yummy seafood, including hard to find items. Located on the seafront at Playa de la Fontanilla.
Restaurante Cafe Royalty
Plaza de la CandeLaria, 11005 Cadiz, Spain
www.caferoyalty.com
For when one wants to eat in elegance try Cafe Royalty.  
Where to Stay in Cadiz Spain
Recommended Hotels in Cadiz Spain
Recommended Villas in Cadiz
Return from Cadiz Spain to Southern Spain Travel

Copyright© southern-spain-travel.com All Rights Reserved. Content Protected By DMCA.