Food From Spain: Regional and Speciality Dishes of Southern Spain
Many traditional spanish dishes come from Andalucia
The best food from Spain? Possibly. Andalucía is what you think of when you think of Spain. Bullfighting, flamenco, white villages…..and Tapas. You can easily make a meal of the tapas and each bar will have a good selection. When you're here be sure to try the ham, gazpacho, tortilla espanola, bulls tail, prawns, fried fish and Sherry.
Traditional Foods From Spain
Pork - Pork is king in food from Spain! Especially Andalucia. The mouthwatering hams from Jabugo and Trevelez are famed throughout Spain. You'll see it labeled as Jamon Serrano or Jamon Iberico, these black footed pigs are fed a diet of acorns and are free range. They are most commonly served as thin deli style slices that are meant to be eaten in one bite. You'll see the full legs on display both hanging in the markets or bars, but also on a cutting stand so that the servers can easily cut thin slices for presentation. This delectable meat melts in your mouth and are a must have food from Spain. You'll find it at the tapas bars to have alone or with hard cheese, or accompanied with toast at breakfast.
Don't forget the chorizo! Also called blood sausage, this fermented cured sausage is super a popular food from Spain. It's used in many dishes from eggs, sandwiches to being served in chunks for tapas. Its color doesn't come from blood, but from dried smoked red peppers and paprika.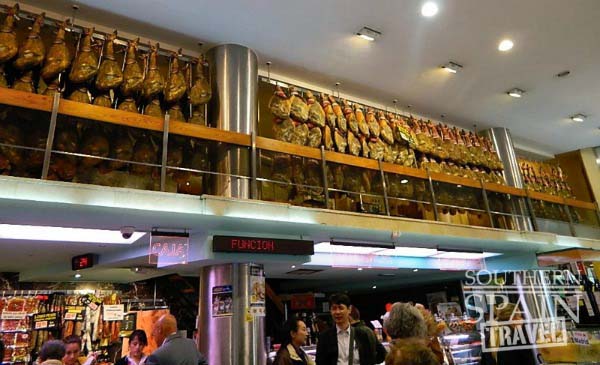 Fried Fish – Because of its vast coastline, a variety of fresh fish is a common food from Spain.

Called "Pescaito Frito," fresh fried fish, made with whatever the restaurant has fresh that day, is common at most beachside resorts and even inland. They douse it with fresh lemon and it's absolutely delicious.

Olives and Olive Oil – It's pretty well known that olives are a common food from Spain. Mixed green olives, often stuffed with anchovies are quite common here. Many times served with a meal, they are so fresh and tasty. The majority of the country (and worlds) olive oil is produced in the southern region of Spain. You can take a great olive oil tour near Granada, if you're interested to learn everything about them (very interesting!). As you can imagine, olive oil is the oil of choice here and is also drizzled on meals right before eating and always used to cook with. They pride themselves on good quality olive oil and the locals can spot a hoax a mile away! Here's more on Spanish olive oil.


Huevos a la Flamenca – Eggs baked in a terracotta dish with vegetables, ham and chorizo sausage. This dish is beautiful as the over easy egg is placed in the center with the sausage and vegetables lining the outside.

Toast with Olive Oil – A common breakfast food is "Pan con Aceite". A toasted bread drizzled with fresh olive oil and often accompanied with thin slices of tomato or Jamon, is immensely popular. Pair this with fresh orange juice or coffee and you'll be all set for your day with this food from Spain!

Gazpacho – This dish is a chilled tomato soup and can come in many variations. It is made with fresh tomatoes, good quality olive oil, day old bread, vinegar and garlic. One common variation is Salmorejo, a thicker soup topped with a chopped boiled egg and ham.

Chocolate con Churros – One super special food from Spain is Churros. Churros are a long fried pastry, with a thick donut consistency, that is often served with a thick hot chocolate. You dip the churros in the chocolate and it is so good! It's often eaten for breakfast or a snack.

Tortilla Espanola – This omelet dish is similar to a frittata, made with potatoes, onions and olive oil, bound by eggs. Its traditionally made in a nice big pan.

It can be eaten warm but it is traditional to eat it at room temperature. It's cut in slices or small chunks for tapas. It is eaten for lunch or dinner.
Typical Drinks of Southern Spain
Southern Spain is wine country. It is the third largest of Spain's wine regions and produces some of the world's best wines. Sherry, in particular, is special here and comes from this area. The climate produces the special grapes used for its production.

Because bars and cafes are a institution here, so are some of the drinks. It's where everyone socializes and a good drink goes hand in hand with that. Locals start their day with coffee at a counter in a café,

have a wine with lunch, sherry or beer mid-day, and coffee and brandy at night.

Wine

Southern Spain produces a few young white table wines- Castillo de San Diego, Marques de la Sierra and wines from El Condado. Tinto, Blanco, and Rosado table wines come from other parts of Spain.

Tapas bars usually serve Valdepenas and La Mancha wines, often times diluted with gaseosa, a fizzy – sweet lemonade. This is called tinto de verano, which means summer red wine.

Heres more on the best Spanish wines.


Fino

Fino is the pride of Andalucia, and also their signature drink! Fino wine has a 15% higher alcohol content then regular table wine. It has a fresh aroma and dry taste.

It is often drunk with first courses and tapas.

Typically served chilled in a small stemmed glass with a narrower rim then it's base, sometimes it is served in a small straight glass called a vasito. The proper way to hold these glass is by the base so as not to warm the sherry.

When you're at the bar, ask for "un fino" or "una copa de vino fino." You may be served a dry Montilla-Moriles from Cordoba, a dry Manzanilla sherry from Sanlucar de Barrameda or a dry pale sherry from Jerez de la Frontera.

If you are more familiar with the wines, ask for them by name. Tio Pepe sherry from Gonzalez Byass bodega in Jerez (our personal favorite!), or Manzanilla from Barbidillo bodega in Sanlucar.

Beer

There are several brands of lager beers brewed in southern Spain. They all come in bottles but many are available in draft. They are usually drunk with tapas, in the summer.

The best and most popular in our opinion is called Cruzcampo. The other is San Miguel.

Ask for "una cerveza."

Nine times out of ten they will bring cruz campo.

Hot Chocolate

Hot chocolate has some history here! Chocolate, originally from Mexio, was imported to Europoe by conquistadors. Nuns adapted the Aztec version of a peppery cocoa drink by adding sugar. The 16th century brought about popularity in cocoa beans and Spain had the monopoly on export of it for over a century, making the formula for chocolate a secret.

Today it's still special and popular. Drunk with churros and alone, it's a thick yummy version that must be sampled!

Coffee

Spanish coffee is made in espresso machines from dark roasted coffee beans with a little sugar for flavor. Spaniards typically drink Café con leche for breakfast, but there are many types and variations that are common.

Café con Leche – Half coffee and half hot milk, it's served in a glass not in a mug.

Leche Manchada – Just a little bit of coffee and lots of hot milk.

Cortado - mainly coffee with a little bit of milk.

Café solo – Usually drunk after dinner, a black espresso coffee served in a tiny cup, sometimes a shot glass.

Orange Juice

While oranges are a common food from Spain, so is thier juice. You'll find orange juice in every bar and restaurant across Spain.

It's fresh, and juiced by industrial sized machines with local oranges. Almost always drunk for breakfast, it pairs nicely with a piece of toast and local olive oil. It can be expensive, but I think it's worth it.

Ask for "Zumo de naranja natural."

Brandy, Conac and Other Alcoholic Drinks Anise Brandy, often called Aguardiente, is the name for any distilled spirit. Its drunk from breakfast to afternoon tea. Sometimes eaten with little cakes and almost always during festivities or after dinner as a digestif. Sangria is a red wine punch made with sweet fruits like lemons, oranges, red wine and sugar. Drunk with dinner, tapas or lunch, a must try. For Dessert: Try Moscatel, the most popular is from Pedro Ximenez. Sweet cream sherry from Jerez is also enticing. Brandy with coffee is popular after dinner, made from the sherry in Jerez. Lepano and Larios are top shelf, Magno is middle shelf. Nightclub drinks: It's normal to switch to tall drinks like whisky with ice and water, gin and tonic or rum and soda.

Interested on seeing more of what they have for food from Spain? Here is a list of common tapas and main dishes of food from spain. Return to Southern Spain Travel

Copyright© southern-spain-travel.com All Rights Reserved. Content Protected By DMCA.