Spanish Paradors
Spanish Paradors are a unique accommodation in Spain. Stay in a palace, fortress, monestary or midevil castle!

Unless you've spent some time in Spain before, it's fairly unlikely that you're familiar with the concept of Paradors. "Parar" means to "stop" or "stay" in Spanish, so the word Parador is a particularly appropriate name for a type of tourist accommodation. Paradors are unique and interesting places to stay while you're traveling in Spain because they are a type of Spanish luxury hotel that is usually located in a historic building such as a medieval castle, palace, convent, fortress or monastery.
Spanish Paradors are operated by the Spanish government. Originally conceived in the 1920s by Spain's King Alfonso XIII as a mechanism to improve Spain's image abroad and promote tourism in the country, government-operated Paradors have become extremely successful in two ways – staying in Paradors is extremely appealing to many travelers, but they also make the government a nice profit. They are found throughout the entire country, in just about every province and region. Because they're so widespread, you can route your travel in Spain in a way that allows you to stay only in Paradors. Several organized tours (some themed, some not) are structured to make sure every night's stay occurs in a different Parador.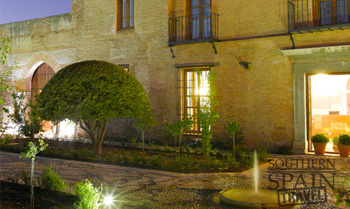 In addition to providing unique, intriguing places for travelers to spend the night, Spanish Paradors have evolved into spiritual and literal guardians of important aspects of the Spanish heritage and the country's traditional culture. By combining gracious hospitality, luxurious rooms and wonderful cuisine with the restoration of buildings once in various states of disrepair and even ruin, Paradors are preserving Spain's rich culture and history while also providing travelers with truly impressive places to stay.
The historic buildings that now house most Paradors are part of Spain's magnificent past, and many have spectacular settings in some of the country's most beautiful regions, including national parks and nature reserves. Others have prime urban locations overlooking the historic center of the city below.
The cost of staying at a Parador varies from region to region, but as with traditional hotels, it also depends on the season and the specific room. However, despite the high standards of these luxury accommodations, the prices are generally very reasonable.
There really aren't any disadvantages of staying at a Spanish Parador while you're traveling in Spain. No matter which Parador you choose, you won't find a better or more luxurious way to get a first-hand understanding of Spain's rich culture and history. Totally try it out if you can...
Are you ready to see more? These are so cool, you're going to love them! You'll create an experience you'll never forget. Most of them are so reasonably priced you just can't go wrong. The Paradores are named after the city...so the Parador de Cadiz is located in Cadiz. Click on the links below to learn more, see pictures, reviews and book a stay!

A List of Spanish Paradors in Andalucia
· Parador of Antequera - Modern and centrally located, this hotel offers great views of Andalusian landscape

· Parador of Arcos de la Frontera - Located in the historic white hill town Arcos de la Frontera

· Parador of Ayamonte - Awesome views of the river Guidana and the Algarve

· Parador of Cadiz - Close to San Sebastian Castle, La Caleta Beach and the historic center, this is a beautiful place

· Parador of Carmona - A 14th century Moorish fortress and located on the countryside with views of the Corbones river

· Parador of Cazorla - Located on the Cazorla nature reserve with breathtaking natural surroundings

· Parador of Cordoba- Located on the former site of Abderraman Is summer palace on a hill next to lush gardens and a pool.

· Parador of Granada - 15th century convent located on the grounds of the Alhambra

· Parador of Jaen - An 18th century renovated castle

· Parador of Malaga Gibralfaro - Located on top of Mount Gibralfaro and next to the castle, its location and views are unbeatable.

· Parador of Malaga Golf - Located on a historic and spectacular golf course on Costa del Sol

· Parador of Mazagon - Located on the beautiful Doñana National Park
· Parador of Mojacar - A modern parador located on the seafront of Mojacar Beach
· Parador of Nerja - Located on Burriana Beach, beautiful views!

· Parador of Ronda - Located in Rondas former Town Hall, it overlooks the gorge and Puente Nueva Bridge

· Parador of Ubeda - This parador is located in a former 18th century palace that has kept its classical decor

Paradores in Murica
· Parador of Lorca - A beautifully renovated 18th century castle on an archeological site
Return from Spanish Paradors to Southern Spain Travel

Copyright© southern-spain-travel.com All Rights Reserved. Content Protected By DMCA.