Granada Spain
Home of the amazing Alhambra Palace

Granada Spain is a special place. Home to about 300,000 people, its smaller then Seville yet feels bigger and more city like. It seems more fast paced then Seville or Ronda. The center areas didn't feel as charming as the back streets. However, it had it's own personality, and had a lot to offer.
Granada Spain use to be the grandest city in Spain. Everything that came with the change from Moorish to Christian rule, it eventually lost power. Today its known for it's history and the people have a good life. A north African culture still survives here today.
Theres a lot to explore and is worth at least two days of your time.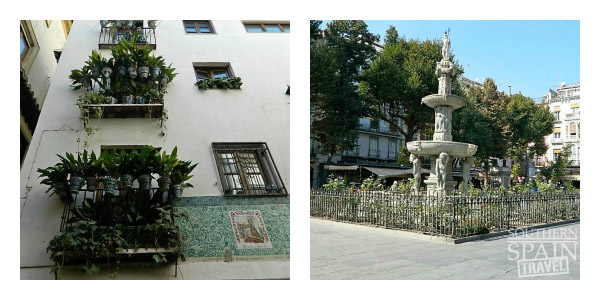 It's located at the base of the Sierra Nevada mountains, which lends to some great nearby outdoor activity and tours. We were able to score a great time with "the olive oil tour" company, which gave us a special look into the old world style of olive farming. We learned all about olives and even had a great tasting.
The most important sight in Granda Spain is the Alhambra fortress. This famous site is located here, in town, at the top of a hill. It is a sight to see and must do when they visit. The Alhambra was the last Moorish stronghold kingdom in Spain. I was shocked at how grand it was and am so glad that I took the time to see it.
The Moorish quarter, called the Albayzin, is definately worth exploring as great restaurants, shows, and hotels resign here. It is the best preserved Moorish quarter in Spain. There are several different sections of town worth visiting including St Nicolas point, the center where all the shopping is located and many key eateries.
Most of the important sights are within a 20 minute walk of Plaza Nueva, and we recommend you stay in a hotel in this area as it was the square that Kings called home. Today, hippies and street muscians are seen here. This center is located in the Darro River Valley that seperates two hills where the river now flows under the square. One hill has the Alhambra and the other is the Albayzin.
Eventhough it is a fairly touristy town due to the Alhambra, you still feel as if you are in a movie. The tasty gelato shops, the old ruins and the fountains that flow crisp water from the mountains are all sights you'll see as you walk the streets. Because of the many tourists that pass through, you'll want to be sure to make your hotel selections carefully.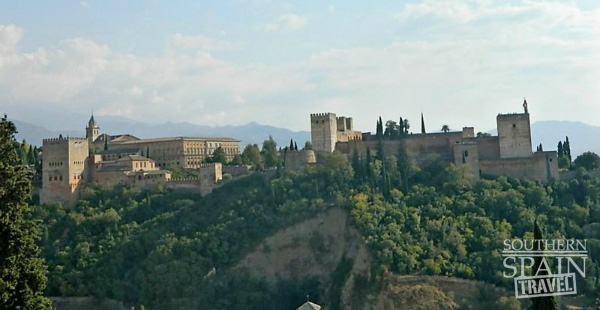 Things To Do and Attractions in Granada Spain
Alhambra Fortress - The Alhambra is an amazing piece of archetecture and history. Located on a hill in the city, this palace and fortress was delicately crafted and has been restored from a bit of decay but is in fantastic shape. It holds patios, gardens and everything you'd imagine extravagance during that time period. It's big, beautiful and a must see. Ticket times are only given at certian times in an effort to tame the crowds and seems to work well. It's best if you can have your hotel arrange the tickets for you so they are ready and you don't have to get them yourself. Leave at least half a day for this adventure.
St Nicolas point-

Best

at dusk to view the outside of the Alhambra. This is located up the steps of the Albayzin. You'll find restaurants in this area that offer a great outside view of the Alhambra.
Fill your water bottle with free fresh water from the Sierra Nevada at public water fountains (love these, all around town)
The Royal Chapel - Built for the catholic monarchs in 1505, this building is a magnificant site to see.
The Cathedral -

Built in 1523, many designs of baroque artist Alanso Cano are depicted here.

Stroll through the Albayzin, the best preserved Moorish quarter in Spain
Alcaiceria - Tiny shopping roads filled with tourist shops (still sorta fun to go through!)
Corral del Carbon - Granadas only surviving inn for travelling merchants with a cool Moorish door
Paseo de los Tristes - A strolling strip along the Darro River that have eateries and moorish history
Hammam el Banuelo - Eleven century ruins of Moorish baths
Great Mosque of Granada, an active mosque with an info center on muslim perspective of Granada history
Hammam Banos Arabes - Spa and Arab bath
Zambra Dance - Flamenco like dance where shows are in the Sacromonte district of the Albayzin.
Center for the interpretation of Sacromonte Carthusian Monestary - A Baroque monestary on the edge of town
Where to Eat in Granada Spain
Carmen Mirador de Aixa
Carril de San Agustin 2, 18010 Granada
Lovely restaurant with a lovely view overlooking the Alhambra from their outdoor terrace. I bit pricey but worth it. Great at nighttime but works out best if you make a reservation. Located in the Albayzin.
Los Diamantes
Calle Navas, 26, Granada
A good tapas bar if you want to see an authentic, fast paced, restaurant. It gets crowded fast but they can pump out meals quickly too. Lots of fried food and fish on the menu, but worth a try. Also very reasonable prices.
Bodegas Castaneda
Almireceros 1-3, 18010 Granada
This place is so great and quite a find. Great tapas for a snack or a meal. The waiters are so friendly and even gave us two extra tapas to try, knowing we were tourists. From the salad to the spinach pie and blue cheese and tomatoes it all tastes good. It gets crowded fast but people are shuffling in and out constantly so if you're patient you'll be able to squeeze onto a table. It's certainly authentic and hams are hanging from the ceiling with rustic décor which adds to the experience.
Las Estrellas Mirador San Nicolas
Callejon Atarazana Vieja, 1, 19010 Granada, Spain
This restaurant is another option for dining with a view of the alambra. It has a magical feel and beautiful at night. Great food. Located in the Albayzin.
Taberna Masquevinos
C/ Tundidores 10, 18001 Granada, Spain
Modern tapas located on an alley behind the cathedral. Great wine (the owner has a passion for it) and you'll love the food selection. Try it out!
Where to Stay in Granada Spain
Villas in Granada

If you want a special hotel...
Try the Parador de Granada, a 15th century convent, which is situated on the grounds of the Alhambra - truly an awesome experience.

Return from Granada Spain to Southern Spain Travel

Copyright© southern-spain-travel.com All Rights Reserved. Content Protected By DMCA.