About Cordoba Spain
Situated along the Guadalquivir, Cordoba Spain's attractions are the Mezquita mosque and beautiful patios
Cordoba is a cute little town known mostly for its mosque, turned catholic cathedral, the Mezquita. Aside from Granadas Alhambra, The Mezquita is Europe's next best Islamic sight, a grand and amazingly well preserved mosque dating back to A.D. 784. And it's a great representation of southern Spain's past of Islam and Catholicism.
Cordoba Spain has a grand Moorish and Roman past, and served as a regional capital for both empires. The Mezquita takes you back to the time where it was a thriving and sophisticated culture. It was a place where enlightened thought, artistic expression, philosophy, and science flourished when the rest of Europe was in the Dark Ages.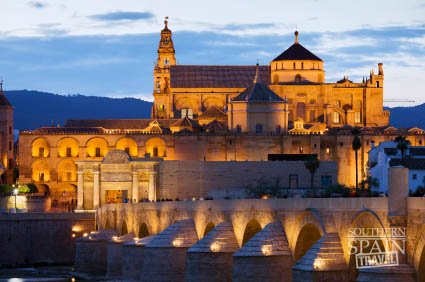 The Juderia, the quarter with Jewish neighborhoods and flowery patios are another special thing about Cordoba. Both the Mezquita and Juderia are located near each other making it convenient to visit both. The rest of Cordobas sights are in a close distance to the Mezquita, including the Alcazar, a former royal castle.
Cordoba has a population around 300,000 and is small enough to see a shepard herding sheep through town but large enough to find all the conveniences of a modern city.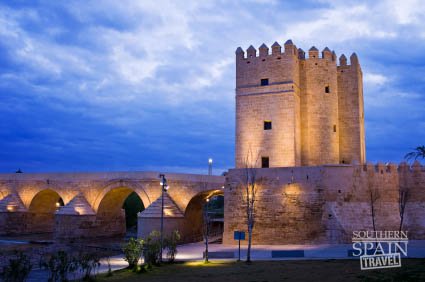 This is a great town that deserves at least one night and two days. While it's not as exciting as Sevilla or Granada, it does have some amazing characteristics and should be seen. The great thing about Cordoba is that it is so convenient to visit because it is along the Ave bullet train line. If you're going to Madrid to Seville, or vice versa, it's convenient to take a stop here. Only 45 minutes from Sevilla or one hour 45 minutes from Madrid. It also has connections to Malaga, Granada, Ronda and Barcelona. While Cordoba Spain has no metro system is does have an excellent bus system. Bus maps are available it the tourist information centers and tickets and be purchased at most kiosks.
Things To Do and Attractions in Cordoba Spain
Visit the Roman Bridge - Scattered across Spain you'll find Roman remains like Cordoba's Roman bridge. While the bridge has been rebuilt several times since the days of the Romans the foundations are still the original. It is located within walking distance from the Mezquita.

Archaeological

Museum

of

Cordoba consisting of roman and Moorish artifacts definitely a history buff must see museum.

Calleja de las

Flores one of Spain's prettiest streets with window and balconies decorate with floral and plant arrangements. These are beautiful patios where households compete for the best done patio in Cordoba. Bring your camera- this is definitely a picturesque street.
Casa de Sefarad - Located next to the synagogue on the corner of calleaverroes and Calle do los Judío. This museum shows life as a Sephardic (Spanish) Jew. Very informative and interesting.
Hammam de Al Andalus Banos Arabes - Relax and enjoy yourself at this arab bath consisting of 3 different pool temperatures hot, medium and cold.A great way to treat yourself after a day on your feet.
Tablao Flamenco Cardenal - Within walking distance from the Mezquita this building used to be the archbishops palace. The Flamenco that is put in is one of the best in Spain. The show usually last for about an hour and half and come with a drink.
Sinagaoga - One of the only synagogues to survive the inquisition while it no longer a functioning Jewish synagogue it holds an important place among Spain's modern Jewish population. Casa de Sefarad just up the street does a good job explaining the functionality of the synagogue.
Archaeological Ensemble of Madinat Al-Zahra - Northwest of Palma de rio lies the remains of a 10th century morish palace. Not rediscovered until the early 19th century it is slowly being restored. Find out how to get there by visiting one of three tourist information centers in Cordoba.
Where To Eat in Cordoba Spain
Regadera
Cruz del Rastro, 2, 14002 Cordoba
You gotta love this place! Fresh and creative in the décor and menu. It's in a great location with walking distance to many hotels. They offer good service and great value. While it is small inside it's contemporary menu is a bit different then the usual tapas.
Salmorejeria Umami
Calle Blanco Belmonte, 6, 14003, Cordoba, Spain
Cordorba is known for Salmorjero (cold tomato based creamy soup, similar to gazpacho) and this restaurant has great options for it. This place has lots of locals and few tourists, until they all find out about it! Serves tapas and other traditional Spanish food.
Casa Mazal - Juderia
C/ Tomas Conde 3, 14004 Cordoba, Spain
This restaurant is super cute and is located in the jewish section near the synagogue. If you're tired of the traditional Spanish tapas, this is a good option as they serve up Mediterranean choices.
Bodegas Mezquita Corregidor
Calle Corregidor Luis de la Cerda 73, 14003 Cordoba
Good location but in a touristy area, it has good food and a menu in English if you prefer. It's only two minutes from the Mezquita. Serves Spanish tapas with some Mediterranean options.
Where To Stay in Cordoba Spain
Return from Cordoba Spain to Southern Spain Travel
Copyright© southern-spain-travel.com All Rights Reserved. Content Protected By DMCA.