Malaga Spain
Malaga Spain is a key beach town and provence situated near the mountains offering warm breezes, blue waters and cool attractions
Malaga was founded by Phoenicians before the roman era. It has become the second largest port in Spain and a nice vacation town due to its 324 days of sunshine a year.
This city is the capital of the Malaga provence. There are about 1.5 million inhabitants in the Malaga province and a quarter of those people live in Malaga proper. Malaga Spain is backed by mountains keeping the cooling northern breezes out and the Mediterranean keeps its temperature moderate year round. This micro climate has made Malaga a major beach destination for Spaniards, and all its northern neighbors. Its main attractions are conveniently located in the center of the city surround by the cathedral.
Because it is situated along the coast, most people fly into Malaga Spain and go to beach towns around Malaga. They have a large airport and good transportation options. Good seafood and the beaches is the biggest draw.
Malaga is sophisticated but has an andalucian feel. It has lots to offer including musuems and tapas bars. They do not have many tourists, so if you want an un-touristy town this might be your pick.
The best attractions, in my opinion, are Pablo Picasso's house and the roman ruins. If you only can pick two things to do in town, pick those.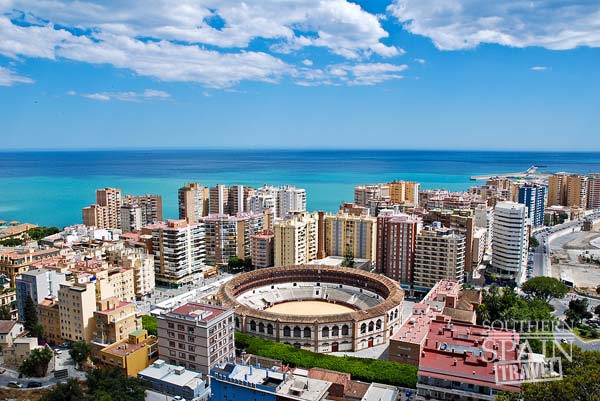 Things To Do and Tourist Attractions in Malaga Spain
Alcazaba - Just a 15 minute walk from the train or bus station. A Moorish fortress built in the 8th century. Ferdinand and Isabella lived here after conquering Malaga in 1487. Bring your camera this place is a photographers dream with Islamic influenced architecture. This site is just another shining example of why southern Spain is the best place to visit.
Malaga Cathedral - Malaga Cathedral or Catedral de la Encarnacion began construction in the 15th century and was never truly finish as they ran out of funds, however this has became part of its character. Has a massive old pipe organ that still functions to this day and off to one side a museum housing religious relics and art. Located in Malaga's historic district makes it an easy stop on your sightseeing tour.
Contemporary Arts Center - A museum of modern art hosting today's most famous artist.
Picasso's House - The childhood home of Pablo Picasso. This home houses some of Picasso's sketches and other artwork along with some family photos.
Roman Theatre - Situated by the Alcazaba it dates back to the 1st century BC. It is fairly well preserved for 2000 years old. The Romans knew how to build them. Definitely worth seeing especially since it located close to so many other attractions.
Museo Del Vidrio y Cristal de Malaga -

A collection of crystal and glass from the Egyptian and Roman era all the way up to the present housed in a unique setting of a 18th century mansion.

Zea-Salvatierra Palace - 17th century baroque style palace and long used postal house. This home is worth a visit especially since it right around the corner from many other popular sights.

Plaza de la constitucion - Malaga's main square in the historic district. Check out the fountain named after Carlos V. It is believed to be of Genovese original but no one is exactly sure how it ended up in Malaga. The square and fountain are located a short walk from the cathedral.

Calle Larios - A shopping street about 300 meters long that is known for being the 5th most expensive shopping district in Spain.

Where to Eat in Malaga Spain
Tapeo de Cervantes
C/ Carcer, 8, 29012 Malaga, Spain
A great little restaurant with fantastic food at a good value. It is small and popular but worth waiting if you have to.
Las Albarizas
Calle Los Perros, 29620 Malaga, Spain
Great location with a good wine list and authentic Spanish food. They are heavy on the meat dishes, but they are wonderful and of good quality.
EL Piano
C/ San Juan de Letran 13, 29012 Malaga, Spain
While not for everyone's tastes, this restaurant is vegan and gluten free. A really inventive menu and pleasure to eat at.
La Plaza
Plaza de la Merced No.18, Malaga
This place has tasty tapas and is in a good location. It has a good range of options, including some veggie fare.
El Cortijillo
Avda Cadiz | La Cala de Mijas, Malaga
This restaurant is warm, welcoming and has great food. Try the paella, you'll be pleasantly surprised.
Where to Sleep in Malaga Spain
Malaga Spain > Southern Spain Travel

Copyright© southern-spain-travel.com All Rights Reserved. Content Protected By DMCA.