Ronda Spain
Ronda is one of Spain's largest white hill towns
Ronda Spain is a peaceful, charming white hill down located in southern Spain. It's location is what makes it so special. It's located on a hilltop, on a precipitous limestone cleft.

Because of this, the views are spectacular and quite invigorating. One of the largest white hill towns, it's population is around 40,000 people. It's great for day trippers from Costa del Sol, Granda, Cordoba or Sevilla and easy to get to. Most tourists leave at night so you'll find peace.
If you are looking for a little bit of country and quiet, this is the town to visit. The best way to reach this town is by car, and might seem like a hassle, but it's definitely worth the effort. There is a train that goes to Ronda from Cordoba. If you prefer train travel then keep this in mind.
Because Ronda is located on a hill, you'll find your adventurous spirit come out to climb every corner. The views are spectacular any time of day or night and something you won't soon forget. The air is thinner, crisp and clean. You feel refreshed with every breath.
Ronda's History
While the amazing gorge bridges are a sight to see today, it was practical back in it's day. For the Moors it provided a great defense, but was taken by the Spaniards in 1485. The Spaniards know this town as the home of modern bullfighting and home of the 19th century banditos.
Today it's attraction is walking the back streets, looking at the stunning views, beautiful porches and experiencing a spanish town where everyone knows everyone.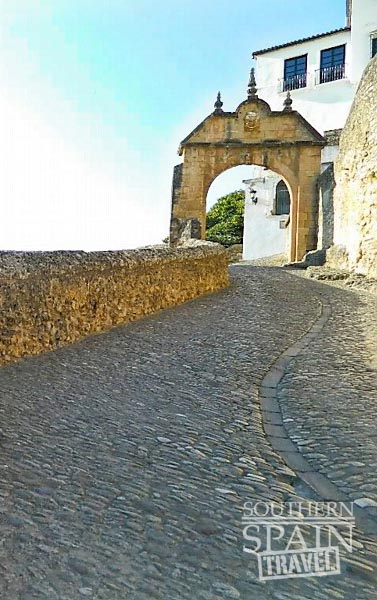 Our Experiences in Ronda
The first time I went to Ronda, I knew I was going to love it. With white washed buildings looking out onto the mountainside; it was fairly secluded, but super quaint.
My favorite hotel was nothing less then really fun, called Enfrente de Arte. This establishment certainly helped out with a great stay. Free breakfast (a spectacular one, with unique made by request items) and special artistic inspired rooms. Located on a back street, but right next to the entrance of the "old town". I highly recommend it.
Ronda is known for having the oldest bullring. The Plaza de Toros is referred to as the spiritual home of bullfighting. It is the dream of every aspiring bullfighter to fight at Ronda Spain.
Ronda Spain is referred or split in two sections: The old town and the new town.
We spent our days in Ronda Spain roaming the town and shopping, visiting the bullring, old town, the Palacio Mondragon (palace) and Casa del Ray Moro that leads down to the river. There are really some fantastic views of the gorge from several points of the city. The pictures can't exactly explain how cool the sight is, you'll just have to see it for yourself!
Here is a view of the gorge from above.
You can walk down the gorge too, but only if you have sneakers!
Many restaurants and hotels are strategically placed near this attraction (who wouldn't want to eat at a restaurant near this beautiful gorge?).
You'll enjoy waking up to the quiet, cool air and is quite different then its Andalucian sister cities of Seville and Granada…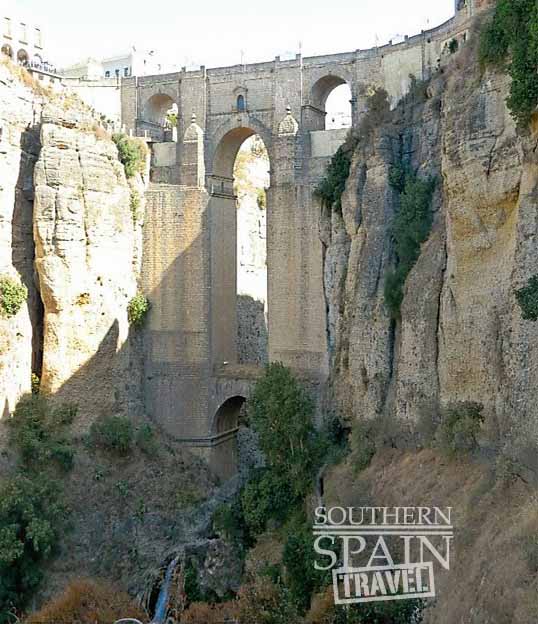 Things to do and Attractions in Ronda Spain
Because it is located in the mountains, you'll find a host of tours and special adventure activities like riding horses, biking, and hiking options. In town, here's the main attractions.
Plaza de Toros - The

oldest bullring

in the country. Pay a small fee to enter the bullring.
Old town Ronda- Here you'll find the Santa Maria la Mayor Collegiate Church, Lara Museum, Museo de Bandolero and the Museo Joaquin Pienado

.

All worth seeing.

The gorge and the new bridge - Take a walk around the top and look down, absolutely beautiful! You can get a cheap ticket to walk down on the inside.
Hike down the gorge- There is an entrance to walk down the side near the square. Bring a picnic for snacks as it's a fairly long walk, don't forget the camera.
Tapas Restaurants - They have a good selection of tapas and spanish fare here.
Casa Del Rey Moro- An 18th century mansion built on the foundation of a Moorish palace, steps lead down to the river
Palacio Mondragon - a palace built after the reconquest.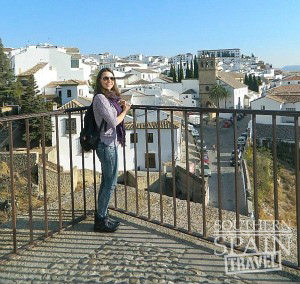 Attractions Near Ronda Spain
The Pileta cave offers a look at spains Neolithic and paleolitic paintings up to 25,000 years old. It's about 14 miles away and it's best if you take a taxi or drive.
Where to Eat in Ronda
De Locos Tapas
Arquitecto Pons Sorolla, 7 29400 Ronda Tel: 605 76 84 08
www.de-locos-tapas.com
This is a great tapas bar in Ronda. It serves traditional style tapas as well as some international options. In the Old Town by the Almocabar Gate and near the old arabic wall and Church of the Holy Spirit. Its small, and sometimes has a wait, but it's worth it. No problem if youre an English only speaker.
Almocabar
Calle Ruedo Alameda 5, Barrio de San franscisco 29400 Ronda
This bar has really unique and fun tapa food. You'll most likely have a great authentic meal experience.
Restaurante del Escudero
Paseo Blas Infante, 1, Ronda Tel: 952-871-367
www.delescudero.com
For a restaurant with a view you can't beat Restaurante del Escudero. Situated next the the bull ring on the edge of the gorge this restaurant offers spectacular views. A bit pricey but worth it for the view.
Where to Stay in Ronda
Hotels in Ronda Spain
Hostels in Ronda
Villas and Cottages in Ronda

Return from Ronda Spain to Southern Spain Travel

Copyright© southern-spain-travel.com All Rights Reserved. Content Protected By DMCA.